---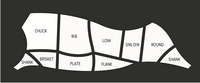 We offer bulk beef in quarter, half, or whole shares of a cow. When purchasing beef in bulk, the frozen packages are evenly divided between the shares.
Our pricing is for the amount of actual packaged beef delivered (AKA cut weight) NOT for "hanging weight" which is typically used for bulk beef sales. Our price ranges from $8.00 to $9.00 per pound for the packaged meat received based on the share purchased. A deposit is made to reserve a share with the total price calculated when the processed, packaged beef is received.
Hanging weight is the weight of the carcass after the animal has been butchered and all the internal organs, head, hide & hooves have been removed and before the beef is aged. After the carcass is hung and aged, it will lose water weight and shrink. The amount of packaged beef is approximately 50% of the hanging weight.

The cuts that are included are:

| | | |
| --- | --- | --- |
| Ground Beef | Filet | Brisket |
| Stew Meat | New York Strip Steak | Chuck Roast |
| Short Ribs | Ribeye Steak | Rump Roast |
| Neck Bone | Sirloin Steak | Shoulder Roast |
| Oxtail | | Sirloin Tip Roast |
 Click here to see details on cuts, quantities, and costs.
 The typical total weight of processed beef per cow is 250 - 340 lbs. for our animals that are raised naturally, grass-finished, and processed at an age of 18-30 months (live weight is typically 800-1000 lbs.).